A landing page has one job and one job only — to 
get people to

 

take action
.
Easier said than done, right?
And soooo many actions…
join your summit
enter your contest
buy your book
browse your product or service
sign up for your awesome communications
fill your virtual event.
Getting a "yes" to these things is crucial to your business!
But here's what you need to remember…
Landing pages are often the first step on the way to making sales.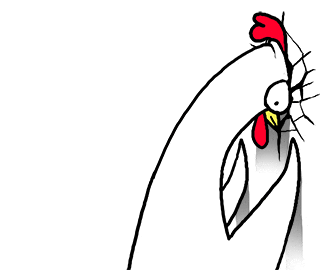 Even before a phone call
Sales = good.
Money = Important
Wasting money oh-so frustrating
If you're driving traffic to a page that doesn't convert — you're wasting money.
Don't be that rooster person.
You need to get your copy right.
If you've drilled down on who needs or wants what you offer, aka the right traffic, you've got it half right.
If the copy on the page they land on does not speak to their problem, address their objections, and let them know you are the best solution to their problem, well…
You still have half wrong.
Your brilliant offer goes nowhere.
(sad trombone)
And that money you were counting on? Someone else is counting it.
(the noive!)
The copy on your page must be relevant, engaging, educational, or entertaining. And great copy–copy that converts– is based on research, psychology, and experience.
Which means…
Just because you are great at writing your blog posts, content, even emails, doesn't mean you'll nail the conversion part of conversion copy.
Hey, you can't be good at everything!
Whether you need:
A shiny, new, conversion machine, opt-ins or lead capture pages…
Upgrades to a page that's not converting (Where your leads are leaving before taking action… 
)
A massive pump to the conversion rate on an existing one…
The perfect landing page with the right copy will do the trick.
Scroll through the landing page copywriting options below to find the solution to your opt-in page woes.
"I need copy for my landing page"
This is for you if you've got an upcoming event or promotion, have someone to design the page(s) and simply need copy.
This package includes:
A

 

questionnaire

 

to clarify the purpose of the page and who you are looking to attract
20-minute call

 

to discuss
Up to

 

500 words

 

of copy
3

 

revisions
Unlimited

 

email
Turnaround time depends on what you give me, but usually 3 – 5 days
(*The price will be determined on what kind of opt-in it is: challenge, webinar, or longer landing page with lead magnet.)
You will walk away with copy that sounds like you, moves people to yes.
This is for you if you've got a landing page* and it's not getting you the conversions you want and you are done trying to figure it out on your own.
This package includes:
A video review

 

of your current page, how well your layout and copy move the person from point A to point opt-in, a critique of your headline, body copy, call(s) to action, all designed to boost that critical conversion rate.
30-minute call

 

where I'll walk you through the video and answer any of your questions.
Does not include copy writing from scratch, though you will get at least one rewrite of a key element and easy-to-use suggestions on rewording for a more targeted message.
Turnaround time is usually 7 days.
(*Does not include long form sales pages.)
This is for you if you have a live landing page*, but your visitors bounce rather than take action.
The Rehab includes everything in the Review package plus:
I will

 

optimize your copy, your layout, and anything on the page that doesn't inspire a "yes."
I will

 

build on your copy

 

and add or take away anything that doesn't move the needle on conversions.
(*Does not include long form sales pages. If you have one of those, send me an email with a few details and or a link to the page and I'll get back to you with a price and next steps.)
"I have now hired Greg more than once. First, she helped develop my tele-summit landing page. She works fast and easy to work with. She wrote the copy and helped me strategize what to put where for conversion. Best of all, we got a 40% conversion rate on the landing page!"